Why are you planning to go abroad for your studies? Think for a moment and write down ten points that favour this statement.
As an overseas consultancy in Vadodara, we have seen two types of candidates:
Some students want to go abroad to enhance learning in their existing field and may or may not serve in a foreign land.
Whereas some students are desirous of pursuing a new career field that is not available in Indian universities. Therefore students are desirous to go abroad.
To which category do you belong?
You might be thinking why we are asking you such questions, but then if you are clear with your intention of going abroad things can be much simple for you as well as us.
Keeping this in mind let us discuss the reasons why some of you might be desirous of going abroad for studies.
What are the reasons to study abroad?
1. Learning:
For many of you, when you start thinking of abroad education, you have already completed your 12th standard maybe graduation. But when you are studying in your own motherland, you have to face fewer challenges.
If you compare the 'learning aspect' then it is totally different in India and abroad. With NEP guidelines, we are trying to change our education sector but it does take time.
Abroad education is skill-based. It aims at the holistic development of a student. You might study in India but you learn only after going abroad. Experience is the best teacher and when you go abroad for education, you get many experiences
As a leading visa consultant in Vadodara, we urge students to go abroad for studies because it develops cross-cultural competence and cutting-edge technical skills.
A study was conducted by the British Council1 to find out what skills are necessary at work. The study reveals that employers look for employees who possess technical skills and soft skills to do the job.
You might be wondering about the 'soft skills'. Well, soft skills include things such as;
Critical thinking
Problem-solving
Time management
Communication
Openness to new ideas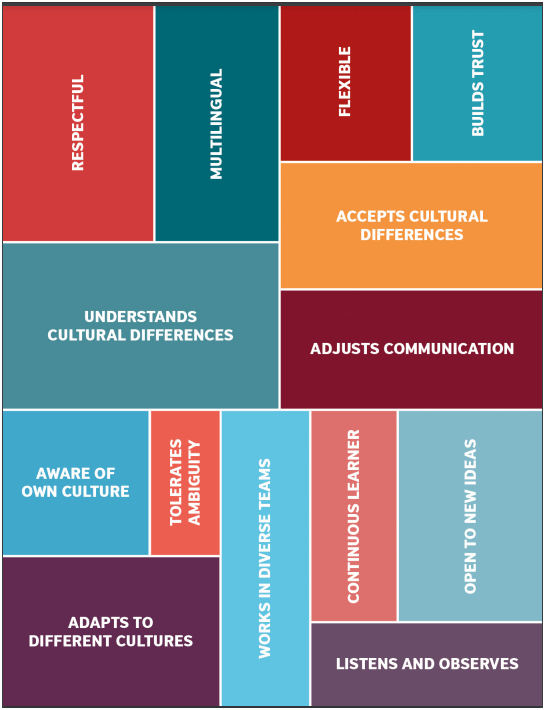 Source2: 'Culture at work' a study by British Council
According to a study by Price Water House Coopers3, India will be 50% larger in 2050 compared to other G7 countries if we use GDP as a parameter to measure progress.
As an overseas consultancy in Vadodara, we urge students to be 'career-focused' for the future. Looking towards 2025, The World Economic Forum Future of Jobs Report (2020)4, specifically emphasizes critical skills for the global workforce.
SUMMARY: Develop soft skills and technical things for doing the job and be career-focused.
2. Better Job Prospects:
As a visa consultant in Vadodara, we find that the success rate of getting a job abroad increases two-fold after obtaining a degree from overseas. We have statistical data to support our findings.QS Employer Insights Report 20205 analyzed the responses from 1,30,000 employers. 25% of the respondents state that 'international experience' was a recruitment priority.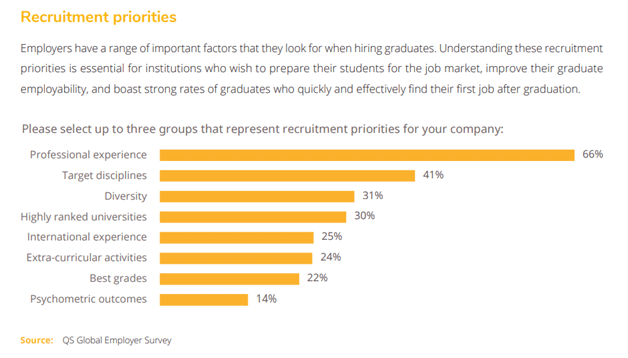 SUMMARY: Chances of getting a high-paid job increase two-fold after getting an abroad education.
3. Life Experiences:
You might think that just because we are a visa consultant in Vadodara, we are suggesting you study abroad. But the truth is that life teaches us many things and it chooses 'experience' as its teacher.
When you go abroad for education you learn to adapt to new people and gain many new experiences. You learn to adapt to new things and experiences and gain the following:
New culture
Make friends
Develop a better mindset
Be more spontaneous
Develop a new hobby
Be self-reliant
Learn to appreciate even small things in lifeAs a parent, you should definitely send your kids to study abroad. This will help them to realize the 'untold benefits'(we will discuss it in detail about it in the section that follows) that they are getting here while staying with you and continuing with their studies. Hardships teach a lot. They become brave and courageous after going abroad for studies.
SUMMARY: You gain life experiences by going abroad for studies and develop a profound personality.
So now you know why you must study abroad. But doing it is not easy and you may face many challenges. Don't worry, we are there to guide you as an overseas consultancy in Vadodara to help you with documentation and other formalities.
We can even help you with IELTS coaching and help you to get desired grades in IELTS on the first attempt.
What are the challenges faced by students going for abroad education?
When students approach our visa consultancy in Vadodara, we can see a mixed set of emotions. Parents are convinced about abroad offshore education but are worried and students are eager to make a fresh beginning.
But my dear students, till now you were having an 'EASY' life with nothing much to do on your behalf. When you go offshore for education you will face challenges like:
1. The difference in culture:
We Indians have a diverse culture and differ to a great extent from other countries. We have many religions and festivals and prefer to live together in our country. Whereas in foreign countries it is exactly the opposite. You need time to adjust to it.
2. Language barrier:
All countries do not have English-speaking people. The link to this Wikipedia page will guide you about countries where you can find English-speaking people.
It might be difficult to communicate with people if you don't have any language in common. However, with a little practice, you can learn a new language or at least know a few things that are very important.
3. Currency:
Different countries of the world have different currencies. As a student, you might find it difficult to understand the denomination and transact in it.
4. Home Sickness:
If you have never been away from your place then being in a foreign country totally among strangers can make you feel homesick. Depending on the time zones, you can call back the people in your country and try to remove homesickness. Also, making new friends, developing new hobbies, and visiting new places can help you to overcome homesickness.
5. Finance:
When you go abroad for studies you may need to plan your finances properly. Right from choosing accommodation, food, and clothing, you need to make proper choices. At times you may also need to work part-time to fulfil your needs and apply for scholarships.
In spite of the above challenges, going abroad for education has its own benefits;
What are the benefits of studying abroad?
More job opportunities
Lot more opportunities for learning
International Exposure
Globally acceptable careers
High remuneration and status
If you need any help in going abroad for education, we can guide you in the process. We have been working as a visa consultant in Vadodara for two decades now and our experience can help you to gain an edge in your career.