IELTS is the first step if you want to go abroad. Whether you want to go abroad for a job, PR or studies; IELTS is mandatory for native English speaking countries.
We offer visa assistance for different countries and also IELTS training to the aspirants. We have more than a decade\'s experience in conducting coaching classes for IELTS and our success ratio speaks for itself. Students often rate us as the 'best IELTS classes in Vadodara'.
Today we wish to clarify
The common doubts that students and other people have regarding IELTS.
Important tips for clearing IELTS exams
How to choose the 'best coaching class for IELTS in Vadodara'?
Without much ado, let\'s begin!
Frequently Asked Questions About IELTS Exams
Who Conducts IELTS?
IELTS is conducted by the British Council, IDP: IELTS Australia, and Cambridge Assessment English. According to the official sources, the British Council's stake in India is taken over by IDP and only IDP and Cambridge Assessment English are the two organizations that allow you to take IELTS exams in India.
Many times students ask us which one they should prefer for the exams. This entirely depends on you. No matter which institution you opt for, the question paper, the marking style is going to be the same. So it does not make much difference.
Why Is IELTS Needed?
If you are going to an English-speaking country then it is mandatory that you appear for the test and prove that you can converse in English before you go to that country.
Specifically, the following countries require you to appear for IELTS exams before you visit them.
– USA
– UK-Europe-Ireland
– Australia
– New Zealand
– Canada
We've our own coaching class for IELTS at Vadodara, where we prepare you to get the required bands in IELTS exams. Each country has different requirements for IELTS bands. We can guide you to obtain a visa for the UK and Canada.
Among The Two IELTS Test Types, Which One Should You Opt For?
IELTS offers two types of tests, academic and general. Academic tests are meant for students. It means that if you\'re migrating to a English-native country for the purpose of pursuing further education then you need to do IELTS Academic.
Whereas if you're going to such a country for the purpose of a job or as a permanent resident then you should appear for the IELTS General exam.
Both of the tests have the same papers for listening and speaking. The only difference you'll note is in the case of writing and reading.
So before you choose which test to appear for, you should be very clear about the purpose. Because both tests differ in band requirements.
Because we are a visa consultant, we can guide you in a better way regarding the test to apply for.
What Are The Different Ways To Appear In IELTS?
There are two ways to appear in IELTS. One is the written test on paper and the other one is online through a computer. You need to choose one among them.
Before you choose a particular mode you should be familiar with the advantages and disadvantages for both of the options.
| | |
| --- | --- |
| Paper Test | Computer Test |
| Requires Good Handwriting | Text can be edited |
| 'Reading' requires answers in a different sheet | Few chances of errors |
| 'Listening' 10 minutes extra to transfer the answers in sheet | No extra time is allowed |
| Result after 13 to 15 days | Result after 3 to 5 days |
If you want to appear for a paper test then consider the following points.
For a pen-paper test you need to have good handwriting
For the 'reading module' you need to write answers in a separate sheet
For the 'listening module,' you are given 10 minutes extra to transfer your answers into the answer sheet.
Results of a test taken on paper are declared after 10 to 15 days.
If you want to appear for a computerized test then you should consider the following things
It is much simpler than the pen-paper test because you can edit your answers.
The best part is you get the results of the exams within 3 to 5 days.
Consider the above facts when you are opting for a particular mode.
How Are IELTS Modules Bifurcated?
As said earlier, IELTS is bifurcated into different modules for listening, writing, reading, and speaking. The tests for listening, reading and writing are done on the same day whereas the test for speaking is scheduled later.
The tests for speaking are just for 11 to 14 minutes whereas the other tests are conducted for almost 2 hrs and 45 minutes. So in all, it is a three-hour task.
The writing test is totally subjective whereas the listening and reading tests contain objective type questions. There is no negative marking for the wrong answers.
What Is UKVI IELTS?
Earlier different universities set different band requirements of IELTS. There was no unanimity. To reduce this the UK government formulated UKVI IELTS.
The tests are required to be undertaken by all those who want to apply for a course below degree level.
Tips To Clear IELTS With Great Bands
In the listening module, the recording is played just once, so as a pro tip from the best coaching class for IELTS in Vadodara, always read the relevant questions first and then listen to the clip.
Watch English speaking programs like BBC or CNN which can help you to develop your listening skills
Try to solve crosswords that appear in the newspapers, this will help to increase your vocabulary.
Keep a practice of reading newspapers, magazines, and books daily. Because the reading passages are directly picked up from such sources.
Listen to English podcasts and then try to summarize what you heard in the talk. This will improve your language skills.
Take practice tests
Take coaching from the best IELTS coaching classes like us.
How To Choose The 'Best Coaching Class For IELTS In Vadodara'?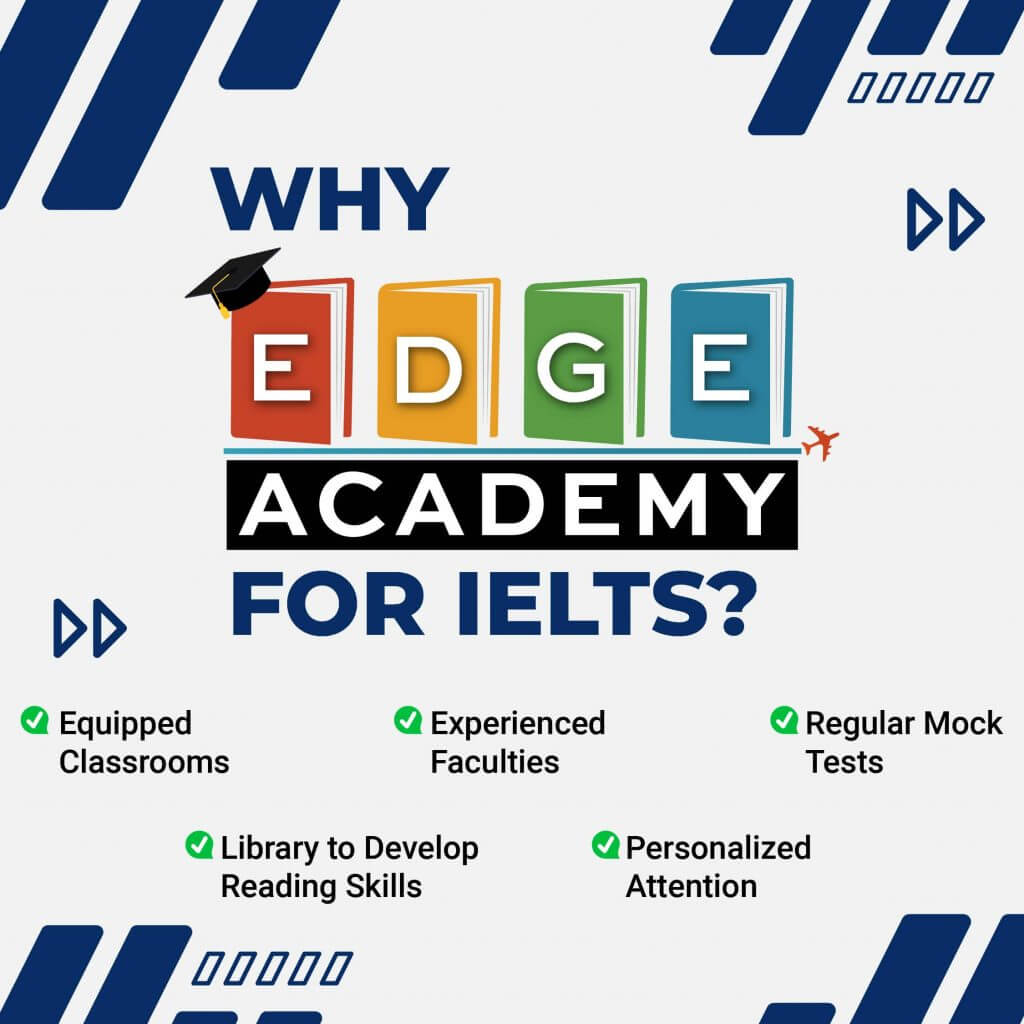 While choosing the best class in Vadodara for IELTS,  you should consider what facilities are available at the training centre. For example, if in the case of a listening session, at the time of exams you are going to get the help of headphones and not earphones then it is essential to get used to them at the training centre itself.
Secondly, you should know in detail about the past experience of the training institute. Although you can appear for IELTS exams multiple times, it does require time and money.
At Edge International, we are having experience of more than a decade in IELTS coaching. We also have a visa consultancy firm. So helping you to go abroad is our top priority.
Lastly, due to the pandemic, many institutions have shifted to the online learning mode. You should check whether you will be having online or offline training.  Does the coaching institute offer practice materials?
As an IELTS coaching class, we offer practice material to our students and are always there to clarify their doubts.
You should also check whether the coaching institute has ample reading material. For reading modules, you need to be acquainted with lots of books, magazines and newspapers. At our IELTS coaching class, we have a library for students to give them ample reading practice.
Lastly, you should consider whether the institute is offering a full course or just a crash course for IELTS. Depending on that you need to work hard on your own.
Final Words: What Next?
We sincerely hope that most of your questions regarding the IELTS exams are answered by us. Still, if you have any doubts then you can always approach our coaching center and get them clarified. We'll be happy to help.
Our coaching class offers personalized guidance, the latest amenities in the classes, flexible batches, a library and most importantly regular mock tests to give you an idea about your preparation for IELTS.
IELTS is not difficult. With proper hard work, tips and tricks it is easy to crack and obtain the desired bands. We wish you the best of luck in all future endeavours.