Hey! Do you know Middlesex University courses yield a 500%+ return on investment? You don't believe it?? Let's take an example, we take a course in biochemistry. In India, BSc in Biochemistry would cost somewhere around 1.5 lakh, require you to study for 3 years, and after that give you a salary of Rs.8 to 9 lacs p.a
Now,  Middlesex University, London BSc in Biochemistry; has one year of study, an investment of Rs. 14 lakh, and job offers start from £74,612 which translates to 73,24,445.90 Indian Rupees. Isn't it a return of more than 500% just in just one year?
If you are convinced, read further! We run a visa consultancy in Vadodara, and as a student visa consultant in Vadodara, we guide our students to apply to Middlesex University, London.
Overview of Middlesex University London
You may have read pages on the internet about Middlesex University London and might be having tons of information about the same, right? With so much information already being written about it, why are we as a visa consultancy in Vadodara, trying to emphasize it?
Any ideas?
Well, there are two main reasons for it. Firstly, post-pandemic all countries have experienced an economic breakdown; the UK isn't an exception.
So every country is trying to make boost their economic standards by attracting students to their country. Hence, getting a student visa is much easier now. As a student visa consultant in Vadodara, we are trying to choose the best for our applicants.
Secondly, the UK offers many short-term courses. Because of the above-mentioned reasons, Middlesex University Courses are great. They've got a very short period from one to one & half years and cost around 14 lakhs Indian rupees
If you are thinking particularly about Middlesex University, London, then you will be glad to know that the university also provides accommodation to the students.
The accommodation is within a walkable distance from the university campus. This reduces your cost of transportation.
Another thing that we particularly love about Middlesex University, London is that it offers skill-based education. The curriculum is designed in such a way that it becomes very easy for a student to get a job after graduating.
The strategy of Middlesex University, London for 2031
Doubtful about what we are saying?
See it for yourself. "Middlesex students employed by FIFA to help collect and analyze data."
Do you know what makes Middlesex University, London so unique?
Middlesex University, London provides apprenticeships to students in which they get remuneration/stipend + experience + they are considered as full-time students of the University. Isn't it the icing on the cake?
One more feather in their cap is; due to the facilities that Middlesex University, London provides. It provides simulation models that help you to train yourself for real-life situations.
The Middlesex University, London has created simulated models for different professions, not just medicine.
Excited to learn more?
Here is a quick look at the Middlesex University courses.
Middlesex university courses are designed to consider future employability. They are skilled-based and to place students in better industries, the Middlesex University, London partners with various companies. This helps students to get placements in those industries/companies.
Middlesex University courses are offered for:
Foundation
Graduation
Post-graduation
The foundation courses are designed to prepare you for the degree level. These courses can give you a glimpse of how the degree courses will be.
Middlesex University courses also offer special courses for research. A Masters in Research degree helps you to undertake a research project under the expert guidance of a mentor. Middlesex University London offers workshops via 'virtual learning environments. It also provides online and physical access to the campus library.

We have covered it in great detail on our website. You can view it to know the entry requirements and deadlines for applying.
Middlesex University courses are popular due to their short-term courses. It also provides English training courses for those who want to prepare themselves for the English competency tests.
The university also provides scholarships to potential students.
Middlesex University, London has campuses in London, Dubai, and Mauritius. It offers student exchange programs that allow the students to experience the culture of different countries.
Well, you might be impressed by the facilities but want to verify the Middlesex University Rankings…
Well, to your satisfaction, here are the latest Middlesex University Rankings.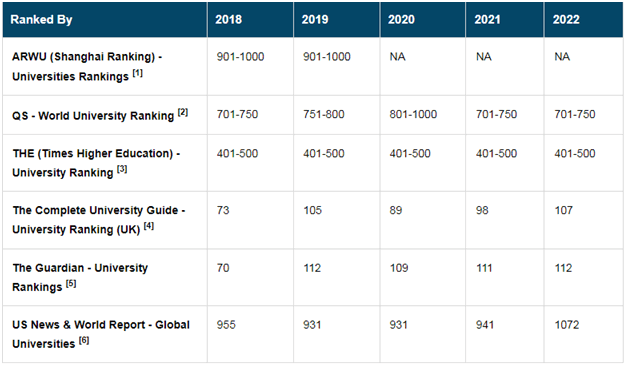 If you are serious about joining Middlesex University London, you can view the subject wise rankings here.
Convinced by the information we gave you?
If yes, then what are you waiting for? Middlesex University offers various English learning courses, short-term-  foundation, graduation, and post-graduation courses. Apart from that, it offers facilities for research.
To help you in placements, the university has partnerships with different industries/companies. Also, it provides apprenticeship training. What do you want more?
Enrol today. Call us, as a visa consultant in Vadodara we'll certainly help you to fulfil your career goals. All the best for your future endeavours.